As I said before, I am giving everyone some posts about some of my favorite things from last year. This post will be about my top 8 favorite fiction books from 2015. Why 8 do you ask? Well, this is a very, very hard post to write, because so many of the books I read last year were oh so good. I couldn't narrow down to 3, I couldn't narrow it down to 5. So I went with 8. Some of these are sequels or parts of series that I have very much enjoyed. Please let me know in the comments below if you have read any of these books or let me know what your favorite book from 2015 was. Without further ado, here is the list:
Number #8 -
World War Z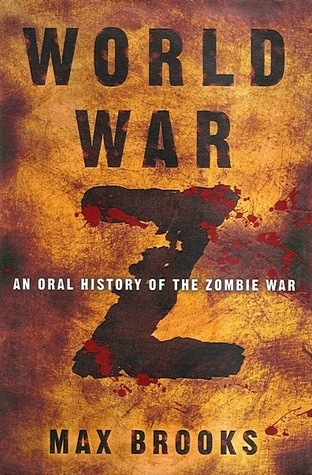 I listened to the non-abridged 12 hour audio book, and it is amazing. The story of the Zombie war is told through personal interviews with survivors. For the audio book they got different voice actors to do each interview. This made the story so much more compelling and immersive. It's a well thought out, well written book. Brooks has seriously considered how a zombie infection could start and spread. He also does a fantastic job speculating on how different people, governments and cultures around the world would react to it. All-in-all this is a fascinating read (or listen). I would strongly suggest the audiobook. (one warning, some of the interviews do include strong language, I struggled a little bit with those sections but there aren't many of them)
Number #7 -
The Devil's Only Friend
This is the Fourth book in the John Cleaver series of books, also known as the I am Not a Serial Killer series. I love this series and I am so happy that Dan Wells has returned to the character of John Cleaver. This story was so engaging, though this story isn't as great as the original three books. Wells has said that this book is really the first book in a new trilogy set in this world. Guys, I can only really tell you to read these books. I can't write much about the plot of this book without spoiling the previous three because they do build on each other. This entire series will be getting their own post here soon. (though I may wait until next year when the final book is released). Also, look at the cover art, so pretty. Read all these books, I wouldn't start with this one, start with "I am not a Serial Killer".
Number #6 -
The Aut
umn Republic
This is the third book in the Powder Mage Trilogy and it is great. If you read it, the series only gets better with each book, making this book the best one. I can't talk about a lot of things because it is the third book in a very exciting and twisting trilogy. This is categorized as flintlock fantasy, so fantasy set in a time similar to the times around the revolutionary war. Fantasy with pistols and somewhat more modern type of warfare. It's simply fantastic. Read this trilogy. I hear that McClellan is writing another series set in the same world and I am so excited to read it.
Number #5 -
Shadows of Self
Yeah, I know. Nobody is surprised to see a Brandon Sanderson book as part of this list. Sanderson is my favorite author. I love his books. This book is the second book in the Allow of Law series which is set in the Mistborn world, after the original Mistborn trilogy. So really, before you read this book, you should go read those books. This book delves into Wax and Wayne's past and, more importantly, into the consequences of those past events. I know that is a lot of homework but I have loved the Mistborn books, they might be my favorite books of all time. Go, go read Sanderson's books.
Number #4 - And Then There Were None
Wow was this good. So good. I was totally engrossed by this book. I listened to it on audiobook and listened to the whole thing in less than three days. I can see why many people consider this to be Agatha's opus. It is masterful. The whole time I was flipping back and forth as to whom I suspected and how events were going to unfold. I believe that this book was strong influence on the plot of the film Clue. It is a claustrophobic and thrilling book. Ten people with mysterious and possibly dark pasts are stranded on the island and it appears as though one of them might be a murderer. I wish I could discuss this further but I fear spoiling it. In short, go read this. As an interesting historical note, And Then There Were None is the third title that this book has had since its release in 1939. Originally, it was Ten Little N-words. Soon after it was changed to Ten Little Indians. And then to its current title. All of the titles are from the children's poem that is central to the story. It's obvious why the title was changed. It's a classic.
Number #3 - The Martian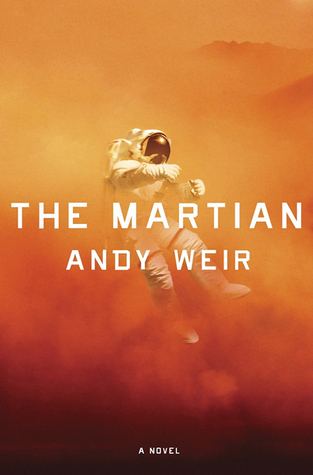 I heard it said before I read this book that it is a mix of Castaway and Apollo 13. I kind of disagree with that statement, and mainly because I feel it's nothing like Castaway. That is a good movie, but my favorite character is a volleyball. Now, props to Tom Hanks for making me love his volleyball but overall the movie is kind of forgettable (please don't hate me, it's a fine movie but I'm in no rush to see it again). The Martain is nothing like that. Yes, it is a survivor story but this is one about a man that is compelling on his own, who is smart, humorous and caring. The Apollo 13 comparison, that I can understand as this is very much an astronaut story and getting to see science up close is great. But Apollo 13 takes place over a few days this takes place over a few years. The makeshift job that Apollo had to do to get home was great to see but this book is about a man having to that for a long time. It is thrilling, suspenseful and fun.
The best part about this book is it brings to the forefront two of mankind's most admirable traits: tenacity and compassion. First the tenacity (I think it's obvious but here we go), Mark Watney's courage, ingenuity and humor in the face of overwhelming trials and near-death experiences are amazing. He is such a likable character. Second is the compassion. When listening to the beginning of this book I wondered if it would be like castaway, where the main character is alive and nobody knows it. But the great part about this book is the view we get of NASA and, through them, the world's struggles and hopes that Mark will make it. The cost to save him was astronomical (see what I did there, tee hee hee), and everyone was willing to pay it, no questions asked. I love that! Also, THE SCIENCE IS FANTASTIC. Of course it is a sci-fi book but so much of the science was spot on. I loved it! People need to listen to this book, rather than just read it because some people might be tempted to skip over some of the science stuff. DON'T SKIP IT. It is great. Science is cool.
I warn some more sensitive readers that there is a bit of language here and there but not excessive and not without purpose. Please go read this book, and when you do let's talk about it.
Number #2 - A Monster Calls
I hesitate to write this review on this book. I hesitate because I feel it reveals more about me then I want a random person on the inter-webs to know. But here we go anyway. I don't believe I've ever had a more cathartic experience with a book. The Truth in it hit me so hard that I cried. This book isn't easy, it isn't happy, and it isn't scary. Simply put, it is beautiful, tragic, and sad. However, the sadness of it might help you. It might help you feel less like a monster.
Number #1 - The Aeronaut's Windlass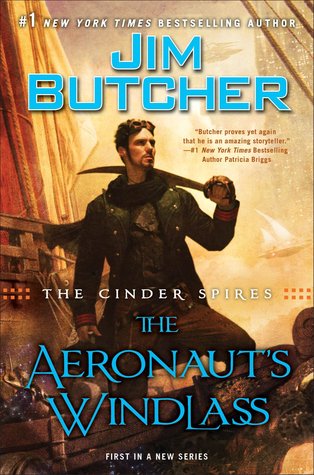 I started reading Jim Butcher's Dresden Files books in 2015 as well and have very much enjoyed what I've read so far (I actually just caught up and am now current with the series as of October). Butcher's writing in that series is neat, and engaging first person narrative. When I heard he would start on a steampunk-ish novel I got excited. Steampunk is a genre that I am fascinated by but have rarely found anything in it that I have really loved. I expected a similar structure to the Dresden Files. Not so. The Aeronaut's Windlass is written in 3rd person limited, which I quite enjoy. He skillfully makes the characters engaging, and the story is also quite exciting. But oh my, what really captivated me was the world Butcher has crafted. It's so interesting, well thought out, and clever. I loved it, especially the airships. I can't get over how much I enjoyed this book. Everyone, go read it. You won't be disappointed. (As a personal note, I listened to this one on Audible and the narrator did an excellent job)